Thursday, April 29, 2000 (Release Night)
*Update*
Firearms has been released:
Stomped-Win32
Sourceforge-Win32
Gametown-Win32
As promised I have updated the site with a preview of Firearms of which you already know will be released tonight. The preview includes new information, 3 brand new screenshots and a detailed look at the mod. You may have noticed that i have took the files sidebar off, it was causing much grief and seemed un-needed.I will probably post a bunch of mirrors later too.
That's all for tonight, maybe I'll see you at a server.
Deadpool
Thursday, April 28, 2000 (2 days away from release)
Sorry for not getting those interviews up yesterday, didn't get any time to update the site. I have posted an interview with Caspar and one of Ross should follow later tonight. I have a special screenie for you tonight, I thought I'd save some screenies for the preview that will go up tommorrow or Saturday if all goes well. I do however have one new screenshot for you, its the m16 m203 grenade launcher being reloaded. Enjoy.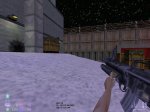 Deadpool
Tuesday, April 25, 2000 (4 days away from release)
As i mentioned before,we will be moving to www.firearmsmod.com shortly after the mod has been released. Until then i will be posting 2 interviews and possibly some screens tommorrow. Later this week i will also hopefully have a preview of it also including some new info and screens of it. In other news Ihave recently had the chance to play the pre-release version which i can safely say is quite fun, it certainly has a good chance of hitting it big=)
Monday, April 10, 2000
Woohoo, update number 2. The firearms mod is gonna be releases this month,so i guess thats good news. Firearms Armory will have a new home on www.firearmsmod.com after it has been released so stay tuned for the official launch of it=). I have found two people that will be helping out with the site, Mj Masta and Anardil, look for them as soon as the site has the official launch. I'v updated the screenshots page and weapons page to reflect the new pics, i also have an Interveiw with Caspar and possibly a preview of firearms soon.Ah...thats all i can think of right now.
LaterZ. Deadpool
---
Friday, December 3/1999
---
"When its done!"
-Caspar-
Sorry for not updating lately much, been real busy, to much news to list but i have sent a hosting request to planethalflife and hopefully they will host us. I have found some one to help me with FireArms Nation, more word on that some other time. Im still looking for textures for the official FireArms Wad. So if you have any please submit them here.. Hopefully the mod will be released real soon and there will be many more updates to the site. Anyways the mod is almost ready for its first release, stuff that still needs to be completed are a few skins, some animations, bit of coding, and some maps. In other news its almost the 1 year anniversery of FireArms, sure think they be done by now, oh well. And remember the mod still needs your help with maps and textures so please get to work!
--Scott--


---
---
Monday November 8/1999
---
"Why are you harrassing me...?"
-Falloutboy-
Alot of progress has been made on the mod i dont feel like writing it out so just click here to goto their site. I have heard that firearms first release will be in mid december, but thats not a sure thing but should hopefully be out by then. Ill make a short list of stuff that needs to be completed:animations is probably the biggest, coding which shouldnt take to long,maps need to be touched up (btw-check out the fa site for the fgd file soon), the rest of the world and player models need to be done but i dont think thall take to long, skins which look like their coming along good. One last thing is a little game called Park-Man which combines southpark and pac-man into a neat 3d game that was made by Mike awhile ago. Download here
--Scott--

---
---
Saturday October 16/1999
---
"If i had a brain, I'd be dangerous"
-Ninja Monkey-
Sorry for the lack of updates(aka: laziness), Christian is done with all the V models(the one you see in your hands) and is now free to work for other mods.Ninja Monkey is still up to his usual shananigans making W models(the ones you see lying on the ground) and Ross is skinning stuff as he usually does.Mike has started doing some programming of some of the multiplayer modes such as last man standing(you might remember that from Goldeneye for N64) and will have some cool fatures(for all types) like limping and deafness.Bad news for 1 player fans, the maps are coming out at a steady rate, a slow steady rate.The new forum is now up and is here to stay(unless someone figures a way to screw this 1 up) and features the ability to delete posts and do other cruel things.And if you dont know Firearms was in some australian mag called PC Powerplay and was featured as mod of the month or something like that.I think ill start putting some quotes from the team at the start of each update as a new tradition to the site and bye till next update.
--Scott--


---
---
Tuesday October 5/1999
---
Just a small update. The new message board is up due to some fucking idiots flaming, now they can be banned and messages can be deleted. Check it out here. There will be some interveiws with some of the firearms team on the page soon, the first one will be with the leader Caspar.
--Scott--


---
---
Sunday September 26/1999
---
The FireArms site has updated their site with pics of the skinned psg1 and m82(also updated in our weapons page).They have also added radio to multiplayer and i hear from Ninja_Monkey that they have started to finalize the multyplayer modes. Recoil has done new graphics and design for this site, theyll be up whenever i get around to it. Also there is a FireArms chat room on gamesnet, the address is at the top right hand corner, be sure to check it out, you may see some of the team in there. Not much else to say.
--Scott--


---
---
Tuesday October 5/1999
---
Just a small update. The new message board is up due to some fucking idiots flaming, now they can be banned and messages can be deleted.Check it out here. There will be some interveiws with some of the firearms team on the page soon, the first one will be with the leader Caspar.
--Scott--


---
---
Tuesday September 07/1999
---
Some New pics in the Weapons page. Included is the Steyr Aug,PSG1,M82 and mc 5. Also there are some new pics in the screens page.-Syre- is still looking for level designers, if you have talent send him your resume. He has decided that they are not in need of new modelers anymore.
--Scott--


---
---
Tuesday September 14/1999
---
Some new wallpapers available for download in the downloads section.The firearms team needs some more people to help finish the mod.Jobs include weapons animator, teamplay level designer and singleplayer level designer.If you think you have the skills send your resume and previous work to -Syre-.Also the page will soon be getting some new graphics thanks to -Recoil-, he has also done a wallpaper which are available in the download section.
--Scott--


---
---
Monday September 06/1999
---
Well not much news to report.Theres an intsa-poll up for your voting pleasure which ill probably try to update daily if not then weekly(or whenever i feel like it).Look here for some exclusive sceenshots soon thanks to Caspar.I also heard that the fire arms message board is going to be taken down, if it is ill put a new one up here.Thats all for now i guess.
--Scott--


---