Sunday, May 21, 2000(New Pacth 1.2)
Well the nice people over at firearms have released the latest patch 1.2 and heres the snipet taken from there site.

"The latest FireArms RC is up. Its FireArms Release Candidate 1.2. You can download it at the following locations:


Stomped.com


3D Downloads.com



Stomped.com


3D Downloads.com


Remember, this is a full install. You must delete your current Firearms directory before installing this release. This is because the .pak files have been eliminated. It was just too much of a pain to try and patch them.

After this full install, the future patches will be much smaller because of this.

When Valve updates HL to the new code, then we will be putting out a new patch that will be much smaller. We are doing the full now to give you a lot of bug fixes and tweaks, so you don't have to go through the trouble of downloading the full FA install on update day.

Here is a list of things that were addressed in this version:
CTI mess up in EvaluateGameEnd: Possibly fixed. This problem is hard to pinpoint without lots of users.
Fixed Telefragging. The still may be an occurrence of telefragging but only if a unoccupied spawn point cannot be found after 5 tries.
Optimized maps - cti_mideast, tp_soviet.
New Maps - ps_street, ps_outlands, tp_depot.
No armor loss when taking friendly fire. Except with explosives. This will be fixed in next version.
Twitching DE no longer Twitches =).
New sounds.
Benelli anim bug when using flashlight.
Reinforcements max out at 256.
Player ID added. Player name now appears below the crosshair.
Map Briefings (also added console command "briefing"). Added menu option when you first join game to display the map briefing.
No lastweapon with CTI item
PSG tweak. Increase ROF (Rate of Fire).
TK tweak. Decreased to factor 2.
M4 only semi and burst now.
AK-47 Bayonet speed increase and damage increase.
No breaking team mates legs. Except with explosives. This will be fixed in next version.
"Llama" prevention. Blocking doors. Added round hit anti-velocity.
Added TK boot if no enemy in certain radius. May need further adjustment.
Frag granade power throw tweak. Experimental tweak. If its liked, we can make the other grenades like this too.
Sand / Sand bags stop penetration. Still needs minor adjustment.
Added intial rank system. Skills to be added in a later version.
Redid radio system to work more like a radio.

Lots of new stuff and fixes. Remember, we DO hear what you say on the forums and we appreciate ALL your feedback. Although please do understand that we can not abide by all your wishes, they are read and considered. Enjoy! "
This came as a nice suprise last night and let me tell you it rocks. What are you waiting for go get it NOW..
Saturday, May 12, 2000(New Design and Location)
Well sorry for the lack of updates but alot have been going on here, the first thing I have to say is soon we will have a new location and a new host at www.firearmsmod.com
Secondly we will have a new site layout and design for your eye pleasuring needs, if you havn't noticed yet I will also be updating the site to help out Deadpool and get things rolling a bit faster around here.
Anardil
Wednesday, May 3, 2000 (Patch Out)
A new patch released which brings the version up to 1.1 has been released. It addresses miscellanious bugs including the bandage buy from menu and desert eagle twitching and more. You can download it from either:

Stomped-USA
Extreme Players-Germany

A Linux patch will be released later on to address the server crash bug and others.I have updated the screenshots page which had a little bit of a problem and the files page. Mj.Masta will update the Maps page a little later.

In un-related news the new Half-Life Standard Developement Kit 2.0 will be released "soon." It will add much possibility to mod developers and will have code that can be used to be compatable with the new TF2 netcode. It also will make drivable vehicles a possibility for future Firearms releases. Eric the Firearms head coder has received the new source already from valve. So look for new features in the next Firearms release.
Deadpool
============================================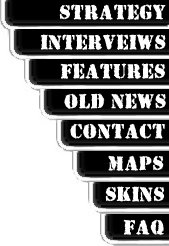 April 29

Screenshots
Maps
Files